Mobile Staircase Welders Near You
Mobile Welding London is a qualified provider of welding and fabrication in London, UK.
We've helped hundreds of residential and business customers in London with the repair, fabrication, and installation of the metal staircase to the highest industry standard.
We cover the entire Greater London and local counties. Our mobile welders are here to help with 24/7 professional mobile welding services for your staircase works.
Staircase Repairs
Metal stairs are used indoors, outdoors, and also as fire escapes. External staircases in London often need welding repairs due to rust or other damages caused by the weather. We'll help you fix any staircase damage and provide you with solutions that will prevent the issue from reoccurring in the future. Our team is an expert at identifying the root of the problem that causes your staircases to wear out and offer you reliable, long lasting solutions.
We use the latest technology and the best tools to make your staircase safe for you and your family. If your stairs handrail is getting loose, parts are becoming rusty or a section of your staircase is unstable, you must have your staircase repaired asap. Leaving staircase damage untreated can constitute a health and safety risk. Don't wait for something to go wrong, talk to us for professional advice, and an inspection of your staircase.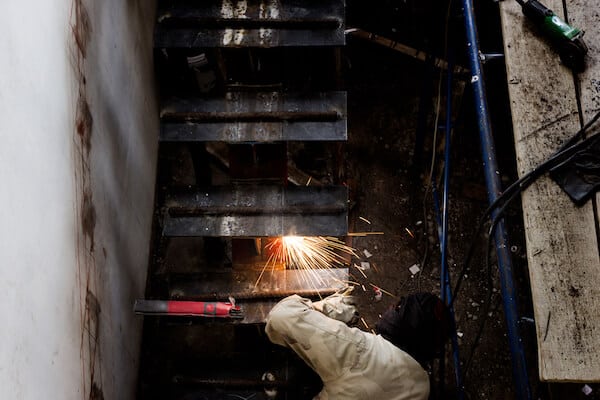 Call us now with any of your staircase inquiries
Metal Staircase Services
Weld repairing broken staircase parts, adding stair supports, replacing treads, fixing a staircase handrail, full restoration, or just some TLC, you can get it all from here right now! Here are some staircase related solutions we can help you with.
Fix a damaged staircase.
Remove rust from metal staircases.
Provide premium welding solutions.
Replace staircase steps, shelves, or parts of the railing.
Add or weld necessary structural metal parts.
Rejuvenate the appearance of old metal staircases.
Improve the security of your staircases.
Refurbish any type of metal staircase.
London Coverage and Support
We offer fast metal staircase repairs throughout the entire Greater London. Simply fill out the form with details about the work, submit some pictures send it and you're done. We'll reply back to you shortly with the best course of action and the best price quote. In cases when you require extensive repairs we're likely to recommend that you have a thorough survey to review the entire scope of work for deciding on the best way forward.
The Best Welders and Fabricators For Your Staircase
The team of experts at Mobile Welding London has a solid 20-years' experience in welding and fabrication. That's only one of the reasons for you to trust a high-quality service with flawless results when hiring us.
Whether you require a metal staircase service for a commercial estate or a residential property compromise on nothing but the best. Let our well-trained welders attend at your destination in London to deliver you with a staircase quick-fix or enhanced solutions. London features a broad variety of staircases and every project has its own characteristics.
We can supply, fit, and repair any type of metal staircase including:
Iron Staircases
Steel Staircases
Stainless Steel Staircase
Wrought Iron Staircase
Emergency Exit Staircase
Fire Escape Staircase
Custom Designed Staircase
Staircase Railings
Staircase Balustrades
And more.
What Clients have to say About Us
thorough preparation before coming on site
Great welders. Decent prices and availability.
I'm happy to recommend Mobile Welding in London. Their steel fabrication work and mobile welding services have been a great help to us. Always a friendly approach and spot-on delivery. Prices are fair too. Thank you
Best mobile welders in London, great quality metalwork and most competitive rates.
Positive: Professionalism, Quality, Responsiveness, Value We had railings fabricated and installed onto the outside steps of a Victorian block of flats. The railings look great, are in keeping with the period of the property and were installed wit…
Positive: Professionalism, Quality
Well rounded metalwork service. I've been hiring local welders and fabricators in the past. The experience I've had with Mobile Welding London is unparalleled. Will hire them again in the future.
Had whatsapp available to book through. Got here 1 hour after I messaged and that was on a Saturday. Did a great job and great price.
Positive: Professionalism, Quality, Responsiveness, Value
Fantastic service. Professional welders. Gate repair has been completed successfully in short notice. I can recommend Mobile Welding London to anyone who needs welding services in Lon…
Expert Advice on Staircase Design and Replacement
The Mobile Welding London company offers a broad range of staircase designs that you can choose from to replace your old metal staircase. Our offer spans from domestic staircases to commercial staircase structures. We also provide expert advice on installment procedures. Our team is experienced with all types of staircase works to an extent of offering you a high level of security and enhance the look of your building. We engage in meticulous planning and pinpoint engineering to deliver the best results with every staircase project.
Our solid experience in the field leaves no room for error and we always aim to comply with the latest building and health and safety regulations. The process of repairing or replacing a metal staircase begins with you contacting us and detailing your problem. Next, we'll send you a price estimate or an expert to assess the conditions of the damaged staircase at your location. Upon evaluating the situation, our team will provide you with advice about the best options going forward. With your consent, our welders and fabricators will start working on your metal staircase as soon as possible.
You will be surprised to see just how quickly the condition of a metal staircase can go bad. Therefore, you should contact a welder as soon as you notice dents, blows, or damage to your stairs. The safety and health of your family could be at risk if you delay repairing the staircase. If you require a staircase repair or replacement act now. Contact us to get an accurate assessment of the condition of your metal staircases!
Call us now for a free quote and advice
Costs
Get the best quality metal staircase at an unbeatable price. Our repair and welding services for staircases start from as low as £150 for a visit and would depend on the task at hand. Once our welder attends at your property they'll advise you on the best solution and carry out any work that has been agreed on.
Our metal staircase repairs, fabrication, and installation costs are offered at the most competitive market rates in London. Depending on the state of your staircase and the necessary solution for repairing or replacing it, we can provide a tailor-cut price that will best suit your requirements.
Commercial Staircase Solutions
Besides repairing your staircase to enhance the comfort of your home, our expert team can also provide metal staircase installation services for your office. If you want your employees to have better mobility in their workspace, opt for an improved staircase solution. Take advantage of our solid experience in the fabrication and installation of staircases to achieve the best results with your metal staircase projects.
Why choosing the best staircase repair services matters
Choose the right service for repairing or replacing your metal staircase to ensure that you benefit from reliable, long-lasting solutions. Letting an amateur welder handle your staircase repair you can expect the problem to return in the future, and potential health and safety risks. The metal staircase work in your home or commercial property should be carried out by professionals.
Our expert team of welders and fabricators approach every project with maximum attention to detail and professionalism. Contact us now for fast and reliable staircase repair, fabrication, and installation services.